Freescale Multi-Mode MCU Pushes IoT Envelope
MADISON, Wis.—The multi-mode radio is the Holy Grail of IoT, since any given connected IoT devices will likely operate not in a single but multiple wireless networks.
The Internet of Things (IoT) community has gotten a little closer to that dream with Freescale's announcement Tuesday (Oct. 13) of a much-anticipated multi-mode wireless MCU supporting both Bluetooth Low Energy v 4.2 and IEEE 802.15.4 networks.
Freescale's new multi-mode radio MCU, KW41Z, comes loaded with memory – as much as 512K flash and 128K RAM. The extended memory allows multiple network stacks—Bluetooth, Thread and ZigBee—to run on a single device, enabling developers to design true multi-protocol IoT devices, according to the company.
Further, the new MCU offers a time-slicing solution which—in the eyes of a user—makes the device look like it's living on both networks (Bluetooth Low Energy and 802.15.4). But in fact, the device is time-slicing and switching very quickly between the two networks.
Freescale explained that the company is offering radios "working concurrently, but not simultaneously." Emmanuel Sambuis, executive director, MCU and connectivity products at Freescale, told EE Times, "KW41 can switch without any loss communication between Bluetooth Low Energy and 802.15.4," enabling a dual Personal Area Network solution.
The KW41Z MCU, based on ARM Cortex-M0+ running up to 48 MHz, comes with a complete software package. It's designed to run applications, add Thread connectivity, control these systems with a smart phone or tablet via Bluetooth Low Energy (BLE), and use BLE to securely join devices to the network, allowing "sideband commissioning," according to Freescale.
Potential use-case scenario
Consider the example of a smart door lock, said Freescale's Sambuis. The wireless MCU—designed into the lock—runs both BLE and 802.15.4.
While the host MCU runs Thread protocol in the background, the same MCU operates in BLE, enabling a user to control the lock locally from a Bluetooth-enabled smartphone or tablet. Alternatively, a user can control the lock remotely using the cloud-connected Thread mesh network, Sambuis explained.
Sujata Neidig, business development lead for the Americas with Freescale's MCU group, added that the wireless MCU's support for concurrent operations also allows the IoT device to respond to an external BLE device seeking entry into the network. It "ensures the pairing of the external device and makes it possible to join the network," she explained.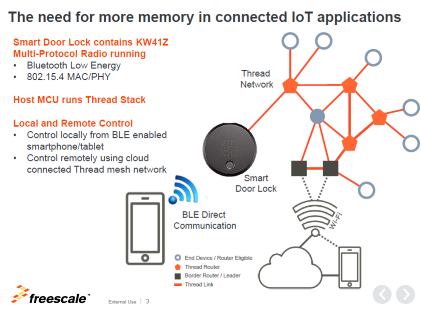 (Source: Freescale)
Without a multi-mode radio MCU like KW41Z, IoT system designers would need to add to the network a separate BLE chip to communicate with a Thread or ZigBee device.
Other notable features of Freescale's new wireless MCU include low power characteristics. The integrated DC/DC converter on the MCU, for example, allows an IoT end-node device to operate on a coin cell or single alkaline battery, Sambuis noted.
The MCU also comes with a 16-bit ADC with integrated temperature sensor and battery monitor. Security features include an AES accelerator and a true random number generator.
Competitive landscape
Jim McGregor, founder and a principal analyst for TIRIAS Research, told EE Times that most major MCU vendors are offering or planning to offer various multimode solutions. "The challenge is balancing the size, power consumption and cost, because there is a different customer for just about every possible combination of wireless interconnects," he explained.